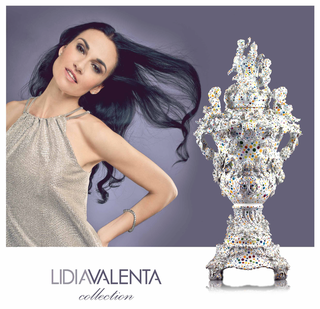 Classically Elegant, Uniquely Modern
With the creation of her first porcelain collection, Lidia Valenta has dexterously launched herself into a new artistic medium. The porcelain collection is bold, unique, and lavish—just like Ms Valenta herself. It reflects Ms Valenta's individual and revolutionary spirit, and her fearlessness to break cliches. While the art vases certainly evoke the classical porcelain form, they simultaneously inject a revitalizing modernist sensibility and find melodious harmony in the most unexpected of places.
To bring her artistic visions to life, she has collaborated with Dresdner Porzellan—one of Germany's oldest porcelain factories—and Holger John, the famous German artist. This ensures the vases are of the highest quality: handmade, hand-painted, and imbued with a German quality and tradition that is over one hundred years old.
The collection has been met with considerable commercial and critical success in Dresden and at the Frankfurt International Trade Fair. The next stage is a global one.
John Varoli PR | NY USA | john@johnvarolipr.com